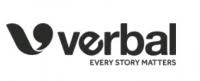 Reading Rooms
Verbal's vision is a world in which 'every story matter's'.
Our Reading Room programme is a unique bibliotherapy programme designed by our own research team of psychologists and literature specialists. Our shared reading sessions use short stories as a tool to facilitate meaningful conversations amongst participants and have been proven to increase wellbeing and improve mental health.
We have a variety of programmes that work with both children and adults:
Prevention & Intervention - in these programmes we focus on turning challenges into opportunities for learning and growth. By exploring healthy ways to cope with setbacks using simple and effective Cognitive Behavioral Techniques (CBT), these programmes aim to contribute to a brighter future where participants can continue to grow and flourish.
Recovery - in this programme we aim to empower individuals to regain control over their lives and emotions. Our Recovery programme is a journey that provides participants with the tools and support to cope with, and manage, their mental health challenges in healthier ways.
We are currently recruiting Reading Room Facilitators to bring our stories to life for participants in local communities.
We will offer you:
Training (including eLearning training)

Safe Guarding & Access NI

One to one support

Reward & recognition

EPIC Awards

Volunteer days
By volunteering with Verbal, you will make a real difference in local communities and have the opportunity to learn and grow in the role.