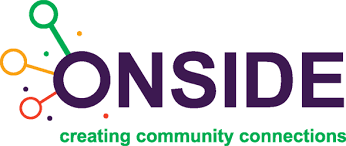 ONSIDE support disabled people in the community to reduce social isolation by using digital technology. Peer Volunteers play a vital role in helping to achieve this aim.
As a Peer Volunteer you will share your knowledge of the online world to help people to reduce isolation and stay in touch with loved ones and the wider community. You may also offer social connections and group work. All you need is basic digital skills and a genuine interest in making a difference to the lives of diabled people. ONSIDE especially welcome volunteers with lived experience of disability.
The time commitment is just 2-3 hours a week, including individual or group support of ONSIDE participants and regular volunteer training and supervision. You will be part of a vital Volunteer team that is constantly learning, trying out new ideas and having fun together!