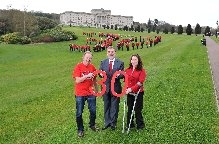 When did you start volunteering?
I've been volunteering since I was 15 after work experience with sports & leisure and then helped out at couple of the groups. Hard to imagine I've been volunteering this long. At the age of 17 I volunteered with Barnardos Young Carers. This led to working with the young carers volunteer coordinator and project worker doing office work and organising volunteer meetings. Due to university commitments I had to stop with young carers.
Then I volunteered as a Barnardos Regional Youth Volunteer Coordinator which really helped me with my uni course, I even used some of my volunteering as my dissertation, leading to me really finding my voice, building my confidence and making friends.
Organising speaking and delivering training / consultations at national level, meeting with trustees; being on the interview panel for the post of Barnardos CEO post, I learnt a lot from working alongside the Barnardos Regional Volunteer Coordinator and gained my Millennium Volunteers Award, a Youth Achievement Platinum Award which was a lot of work, including training and a volunteer placement.
When I moved to Derry 5 years ago, I began volunteering with the Gasyard Volunteer Investment Project, on a 12 week placement and I'm still there. This includes festival events such as feile. I began volunteering for with NWVC through the City of Culture as IT support updating Facebook and Twitter pages.
Early last year I was asked to become a buddy as part of the SOLVE project which I'll be honest I had to think about it for a while. I wasn't sure I was right for the role even though everyone thought I'd be great as a Buddy.
Being a buddy has been so rewarding that I've only, really come to realise how much. To hear that my 1st buddy is to receive their 200 hours Millennium Volunteers award was just the greatest feeling. I'm so proud of him. It was a different experience supporting someone to carry out their volunteer role, rather than doing it yourself.
During the time with my buddy I was asked to go up to Stormont as part of Volunteers Week. It was a a lovely day.
For the last 2 years I have been volunteering with the Foyle Sign Language Centre; working with the Deaf community and hard of hearing and at the same time improving my sign language, which I have been learning for 4 years now. So I'm doing a role that is helping me learn and helping the centre in their work.
Why did you start volunteering, what inspired you?
I honestly began volunteering because my mam made me ha! No really I did.
I have a physical disability and found it very hard to socialise and to get involved in groups. I don't know if people that would know me now would believe me.
My mam spoke to my brothers young carers support worker who in turn thought I needed to be doing something and got me a volunteer enrolment form, I had an interview and began training and volunteering at the young carers support group. They rest you could say is history! Ha!
Do you have any advice for people considering volunteering?
For anyone considering volunteering I was would say.....
Give it a go you have nothing to lose only to gain. I believe there is something in volunteering for everyone. If you find the right role for you and know what you want from your volunteer experience.
I found out what I'm good at and tried out various roles. I have developed my my skills through volunteering including my confidence, volunteering has helped me so much and has helped me grow as a person.