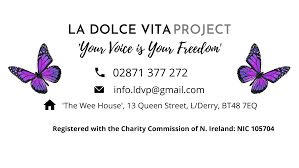 Would you like to give back to your community, while building on your own personal development?
If yes, please do register your interest in becoming a volunteer to help support La Dolce Vita Project at this time.
La Dolce Vita are currently seeking volunteers to support administration, fundraising, social media and blogging.
AccessNI or Gardai check will be required and 2 references to be provided for all volunteer positions.
Please note that you will receive:
a travel allowance
50 hours Continuous Personal Development provided