Volunteer involving organisations are invited to order FREE resources to help them recognise and thank the volunteers in their community as part of Volunteers'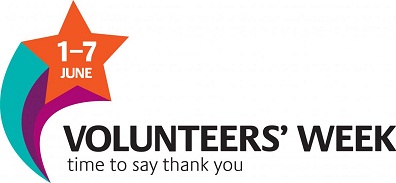 Week 1–7 June. This year, in Northern Ireland, we celebrate the 30th Anniversary of Volunteers' Week and a range of activities are planned to highlight the campaign.
North West Volunteer Centre Manager Jacqueline Garnon, said,"The message for Volunteers' Week is 'Time to say thank you.' There are currently over a quarter of a million volunteers in Northern Ireland who all play a vital role; from volunteer drivers to sports coaches, from hospital volunteers to those working in charity shops. Volunteers' Week gives us the opportunity to shine the spotlight on these volunteers and give them the recognition and thanks they deserve."
Jacqueline added: "We hope voluntary and community groups and charities will order the special volunteer pins, certificates and banners (free to volunteer involving organisations in Northern Ireland) to support their participation in Volunteers' Week "
If your organisation is saying thanks during Volunteers Week we would really like to hear from you and share your activities and photos.
Organisations who involve volunteers from the Derry City or Strabane District Council areas can order these resources by contacting Amy (Derry) on telephone (028) 7127 1017 or email enquiries@volunteeringnorthwest.co.uk or Marirose (Strabane) on telephone (028) 7138 1800 or email Strabane@volunteeringnorthwest.co.uk. Please note there is a limited supply and orders must be placed by 16th May 2014. Supplies will be provided on a first come, first served basis.