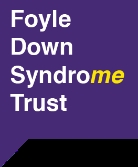 Foyle Down Syndrome Trust are recruiting 'Programme Support Volunteers' to assist staff and support children, teenagers and young adults with Down syndrome throughout a range of social and educational programmes.
Days and Times: Monday day and evening sessions, Thursday 4-7pm session, Saturday 10-12am session.
For more information please register your interest today.