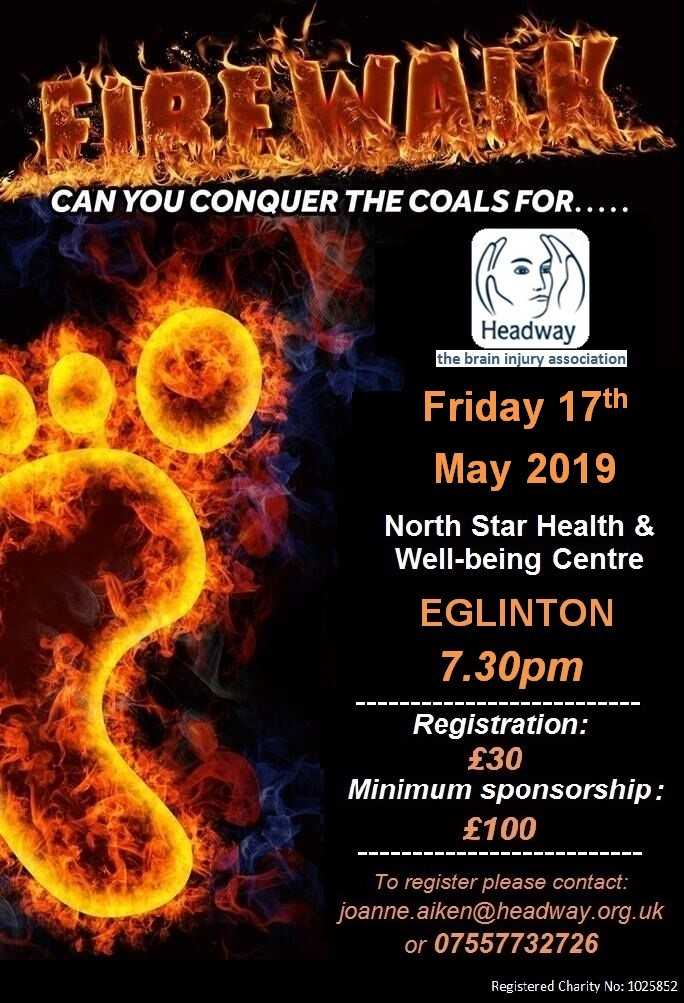 CAN YOU CONQUER THE HOT COALS FOR HEADWAY – THE BRAIN INJURY ASSOCIATION?
Dare to join us for our exciting sponsored FIRE WALK to raise vital funds to support those affected by Brain Injury?
Headway – the brain injury association are passionate about improving life after brain injury. But we can only do this with YOUR help!! We are encouraging people to raise funds in sponsorship for their bravery, with all proceeds being used to fund local services for local people living with brain injury. Every pound raised and every minute of your time will help to make a massive difference to the lives of brain injury survivors, their families and carers. Your support powers our services!
There are approximately 954 ABI admissions per day to hospitals across the UK – or one every 90 seconds. It is estimated that approximately 2000 people a year in Northern Ireland sustain a brain injury; many more are living with the long-term effects.
The aftermath of a brain injury can turn lives upside down. Brain injury is often complex and varies from mild, moderate, to severe. Survivors are likely to face uncertain and challenging problems. The more severe the brain injury, the more pronounced the long term effects will be. Brain Injury survivors may experience varying degrees of physical disability, as well as the less visually obvious problems such as memory loss, concentration problems, and headaches, problems with balance and speech difficulties. Further complex problems may develop for a brain injury survivor that affects personality and behaviour, their relationships, financial status and their ability to lead an independent life. These problems not only have a profound life-changing effect on the person with the brain injury but also on their families and friends.
Fearless fundraisers are being offered the ultimate challenge walking 15-20 feet over smouldering hot coals. Sounds tough but we guarantee you it is safe!! This event not only gives you the opportunity to do good by raising funds for a deserving cause but serves as a unique tool for personal development through a challenging act of mindfulness and the discovery of just how much you are capable of! We would be delighted to have you join!
ARE YOU UP FOR THE CHALLENGE?
The FIREWALK will take place Friday 17th May 2019, 7.30pm at North Star Health & Well-being Centre (Unit 3A1 Benbow Industrial Estate, Eglinton, Derry/Londonderry, BT47 3DW).
Participants are asked to arrive for the essential training at 6:00pm. Registration cost is £30 per person with an advised minimum sponsorship of £100. Spectators are welcome! Refreshments will be served.
TO REGISTER PLEASE CONTACT: JOANNE.AIKEN@HEADWAY.ORG.UK or TEL: 07557 732 726